Barwa chairs are amazing. It's a mid-century modern chair that features two sitting positions; both are incredibly relaxing and comfortable IMO. The design is incredibly smart yet simple and elegant in the execution. The chair pictured here belonged to my father's family and is approximately 70 years old. In April of 2021, Amanda and I restored it and documented a fair amount of the work here on youtube. Covers are incredibly difficult to come by, but the good news is you can make your own! Start by watching the videos and the rest of this post will teach you how to recover a Barwa chair in as much of the process as possible here. Also, please leave comments with your tips, suggestions, etc. We'll work to keep this site updated with what we learn and are excited about fostering a community for these wonderful chairs.
This blog post was originally written for my personal blog site. We've adapted it slightly to fit better with this site. Future updates will happen here and the original post will remain for historical purposes.
Update
This post was written after we made our first cover. In hind sight, we hit a certain amount of beginners luck as the next 6 or 7 covers we made did not turn out anywhere as nice. What I didn't know at the time of writing this is that different fabrics would require tweaking the pattern to fit properly. We went through 10 or 15 pattern types before we were happy with the covers we make now. This was an expensive and time intensive process, but we're glad we went through it. Unfortunately, the fabric listed below is only available at limited quantities, and it's not clear if the production will continue. We have enough for a couple more covers if anyone is interested in using it. If you want to try and source a fabric on your own, we recommend using a 15oz cotton duck or an 8oz (heavier if you can get it) performance acrylic fabric. Note that we tried using awning fabric and that was too stiff to form well to the chair and was uncomfortable.
The Materials
While researching this chair, I found this article by Marisa Bartolucci, the daughter of one of the designers of the Barwa. I reached out and she was kind enough to respond regarding the type of fabric used on the cover. In summary, she says her father wasn't a purist about the chair and recommends to "go with whatever pleases you and works technically."
The Fabric
We chose a water resistant, indoor/outdoor upholstery canvas we found at Joann's. This fabric works really well, although it's softer and has more give than the original cover. This has pros and cons, but ultimately is a great option. You will need at least 2.5 yards of fabric, but we went with 3 yards just to be safe.
Grommets
The cover requires a total of 18 grommets. We found that 3/8″ ones here work really well and include the tools needed to crimp them with a hammer. Our production covers use the C.S Osborne #1 nickle plated brass plane grommets. These are more expensive, but they're much closer to the size used in the original Barwa covers and better quality.
Springs
There are a total of 12 extension springs. The windings have a 1/2″ diameter, core wire measures 1/16″, and are made music wire with a zinc finish coat. The springs have a slightly extended hook that's not common for "off-the-shelf" springs. I've contacted 20+ vendors asking for replacements and I'm unable to find a decent alternative that's already in production. (update: we've now had the original springs cloned and produced in small batches. They are available here on our site)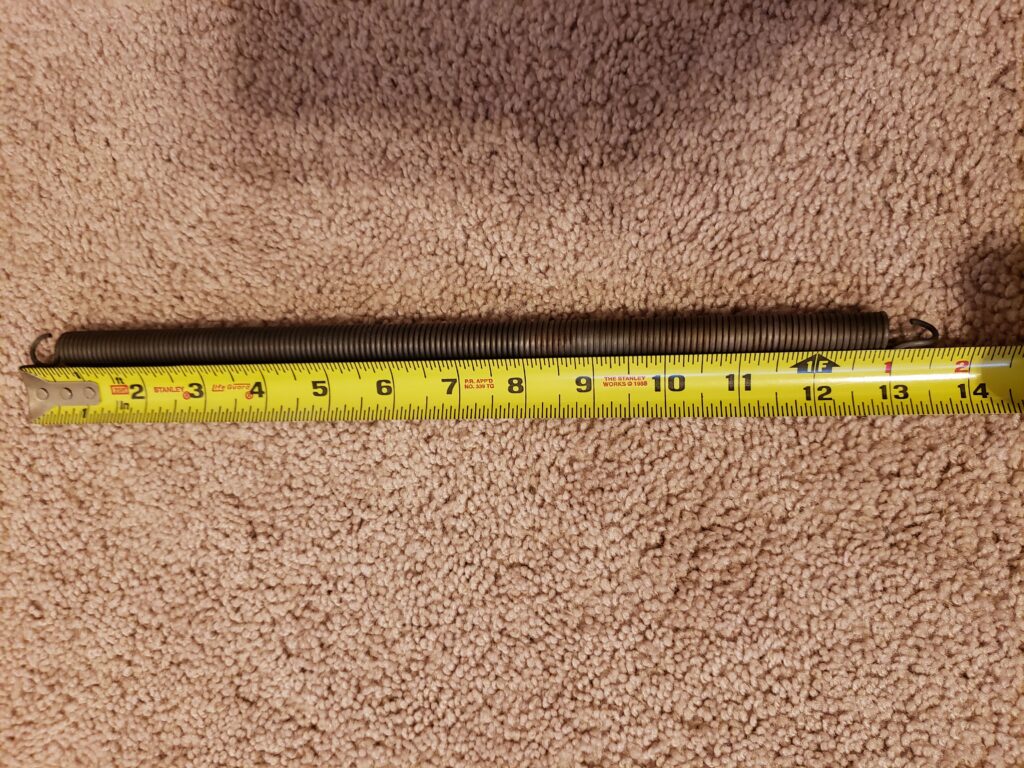 Sash Chain
The original chain is 166.5″ in length, and when both ends are connected with a 1″ S Hook (clamped), will have a 53.3 inch circumference. Once sewn into the cover the chain should be snug when fitting over the frame. Be as precise as you can on the length.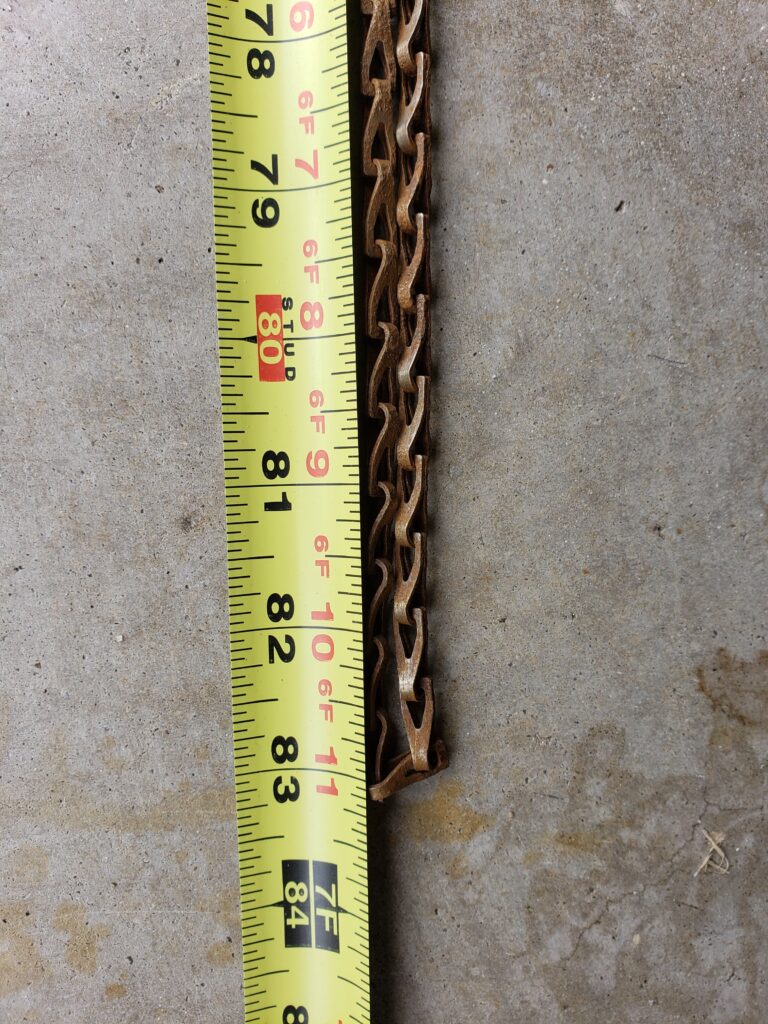 This chain looks like a good replacement that's weighted at 150lbs. The links are slightly longer than the original, but it's not an issue.

S-Hook – This is needed to connect one of the chain to the other. Boltdepot has good stainless steel ones that work really well.
Note: for the majority of the covers we make we prefer using stainless steel cable. It's stronger from a weight limit perspective and also easier on fabric. We have really good luck with 3/32″ 7×19 wire with small Nicopress Stainless Oval Sleeves (3/32). This is less practical for one-off covers as the swage tools needed to crimp the sleeves are expensive.
The pattern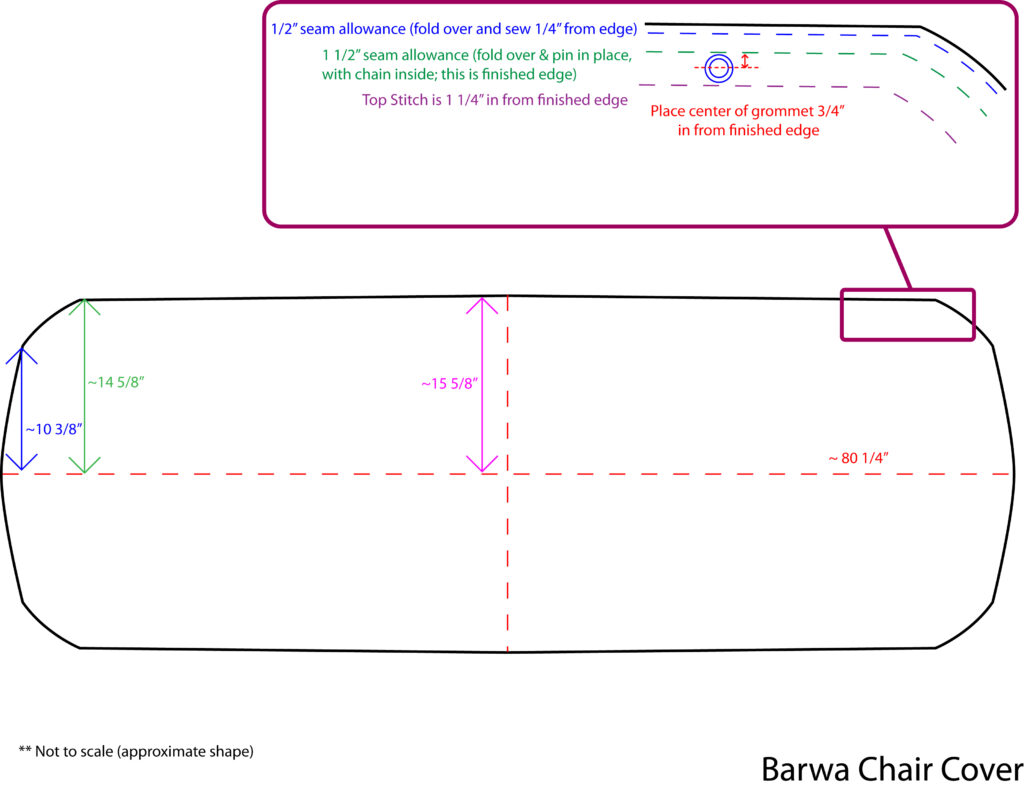 The pattern is too large to print on a standard printer, so we've provided the dimensions for you to recreate it. Packing paper worked great for ours, but feel free to use whatever is handy. We traced our original cover and added a 1/2″ for a seam allowance. Also, it's recommended to finish the edge of your cover will increase the durability as many fabrics can fray and this is a simple step to prevent that.
Putting it Together
First, steam and iron the fabric to smooth it and preshrink it. (note: this can ruin some performance acrylic fabrics. READ the care instructions and skip the iron if that's not recommended) Then fold and pin the initial 1/2″ hem and sew it all the way around (stitchline 1/4″ from finished edge). Next, fold and iron the 1 1/2″ seam allowance, then sandwich the chain in the folded over seam allowance and pin in place. The diameter of the chain will be smaller than the cover and this will help the cover begin to take it's proper shape (see this part of the video for details). Make sure the corners bunch the fabric (tack/pin down about 3 folds on each corner) before sewing; since the chain is smaller, smooth out a section at a time while sewing.
Test Fitting
Before adding the grommets, install the cover on the frame. It should be tight, but not impossible to pull over all the edges. We found it easiest to place the head and foot over the frame first, then pull the sides down and wrap the corner at the seat of the chair last. Once the cover is exactly where you want it, mark the grommet locations. We intentionally left these off of the provided pattern as we think it works better marking them after fitting the cover.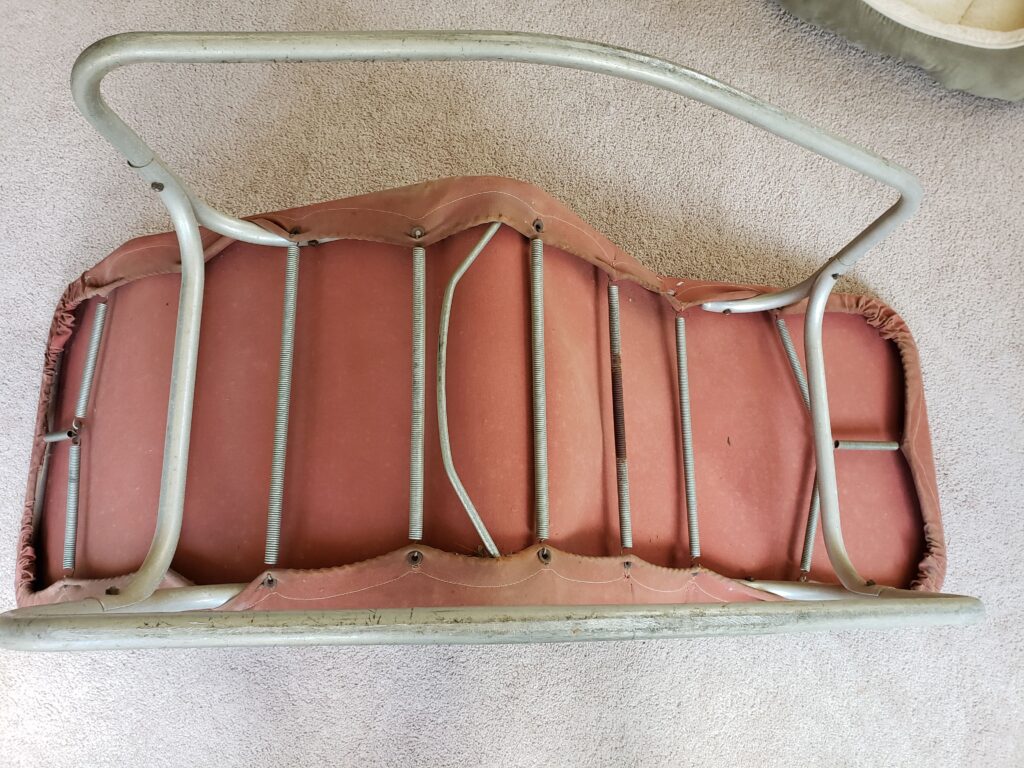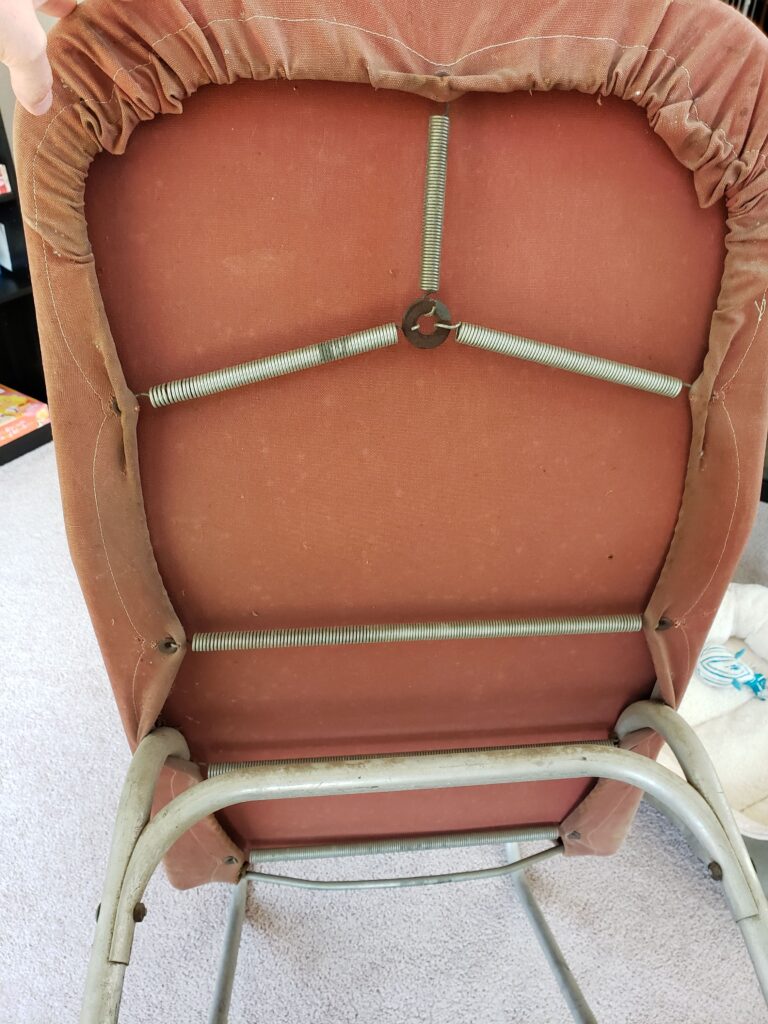 Now that the Grommets are installed, add the springs and smooth out the fabric if needed. That's all there is to it and time to relax in your like-new Barwa! If you found this post helpful or lacking please let us know so we can improve it for others.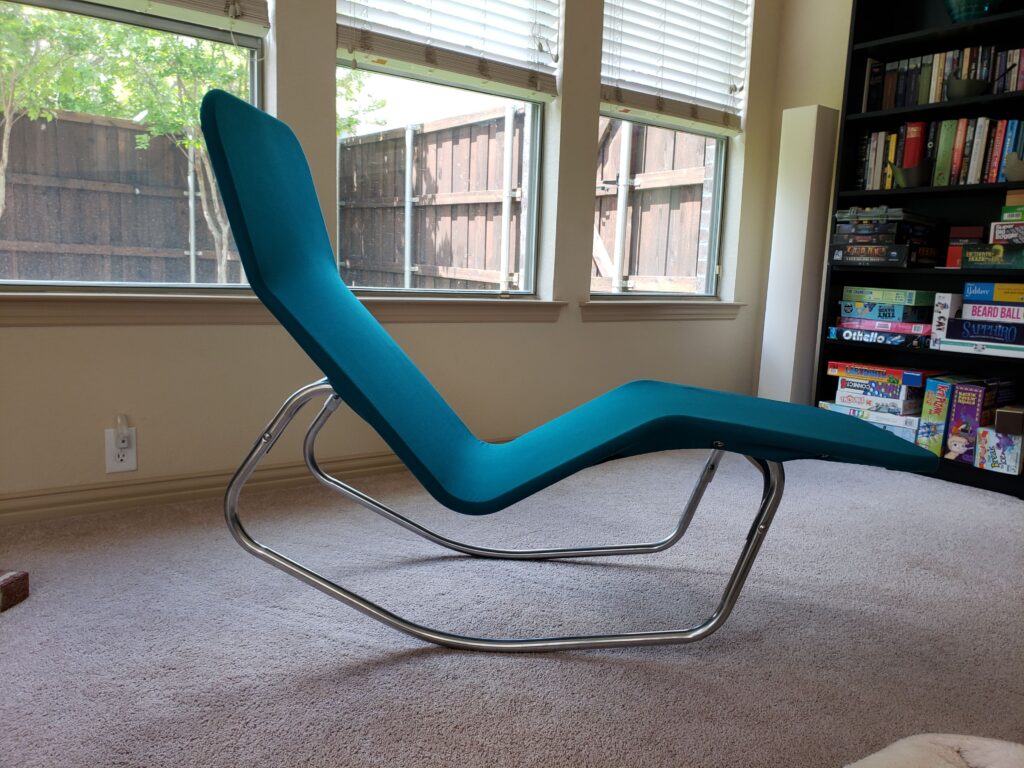 DIY Barwa Hall of Fame
Sara did a wonderful job using this post to recover her chair. She used a heavy canvas and has a beautiful sheepskin on top. The picture below shows the cover held on with some less-than-ideal springs. …we'll get her some better ones as soon as they're back in stock. "Thank you for the measurements they were super helpful! I have successfully sewn the cover, added the grommets and got it over the frame with a little elbow grease and I'm super happy with it! Thank you for your help!!" Awesome work Sara!